2021 BARD Research and Fellowship Grants
$6.7 M for US-Israel Agricultural Research and Development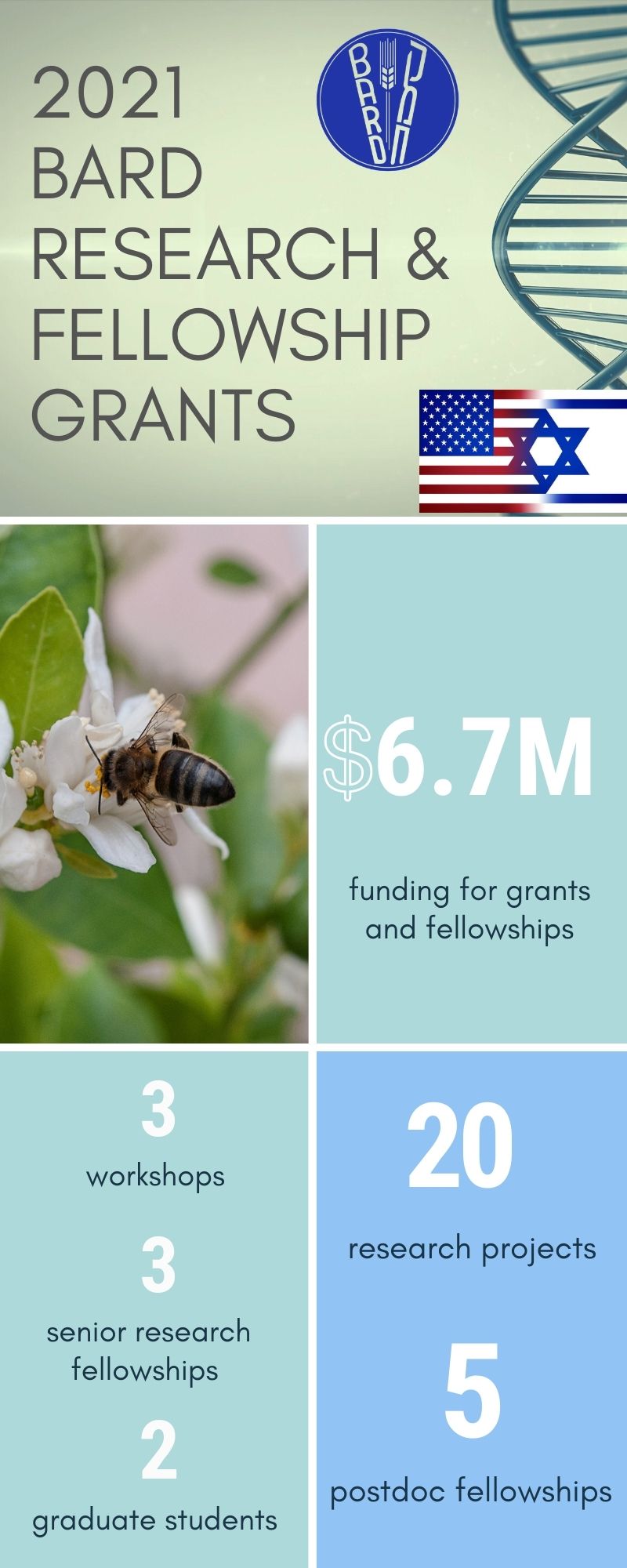 June 2021, Rishon Le'zion
During its meeting held June 1st, the BARD (U.S.-Israel Binational Agricultural Research and Development Fund) board of directors approved the funding of grants and fellowships of joint US- Israel agriculture research and development in the sum of $6.7 million. This year, BARD will also grant five postdoctoral fellowships through the Va'adia-BARD fellowship program, three BARD senior research fellowships supporting American scientists who will conduct research in Israel, and three joint U.S.-Israel workshops.
Among the twenty research grants for projects funded this year are: new and intriguing technological developments for the olive, almond, pomegranate industries, drip irrigation systems, aquaculture solutions, as well as possible solutions for a variety of plant diseases in crops such as barley, sesame, and tomato. In addition, studies proposing to improve postharvest agricultural produce and biological and chemical approaches to improve plant nutrition under sub-optimal growing conditions, have been awarded funding.
Prof. Abed Gera Chairman of the BARD board, and director of the Plant Protection and Inspection Services at the Israeli ministry of agriculture remarked: "The BARD funding allows for investigators from the U.S. and Israel to join forces and conduct agricultural research. This collaboration serves as a force multiplier, and the synergy generate far greater achievements than would have been attained with scientists working separately. The past year has been quite challenging. Yet, BARD's work was carried out extremely well. Supporting high quality agricultural research and development helps to build the resilience we need, creating capacities and toolkits for our future food systems".
Prof. Yoram Kapulnik, BARD's executive director: "This year we received 131 proposals. Many of them were excellent and worthy of support. BARD's meritorious review process is committed to supporting these outstanding research proposals, submitted by exceptional scientists from both countries. Interestingly, this year 45% percent of the research grant recipients are early career scientists, who are less than five years away from their first institutional appointment. They are rewarded with an opportunity to work side-by-side with leading, experienced scientists, and benefit from their vast scientific experience."
Full list of funded research grants and fellowships: