Back
4. About BARD
The United States-Israel Binational Agricultural Research and Development Fund, or BARD, was established over 40 years ago. The process was efficient and swift, with both the US Congress and Israeli Knesset completing the necessary legislation within a single year.
In September 1977, US Department of Agriculture, Agricultural Research Service (USDA-ARS) Administrator T.W. Edminster appointed a steering committee to discuss the matter, and BARD's board of directors convened their first meeting in November 1978. This expeditious action was in no small part thanks to many people both in the US and in Israel, who strongly believed in this important mission and worked to make BARD a reality. The first round of funding for joint US-Israel agricultural research was granted in May 1979.
Also founded in the 1970s were the binational funds of BIRD and BSF. Each of the three joint funds operates according to a binational agreement, supports the majority of its projects though jointly funded endowments, and is governed by a binational board of directors. The joint funds have proven track records for strengthening the relationship between the United States and Israel and generating significant scientific and economic benefits for both countries. The full agreement on the establishment of BARD can be found in Appendix A.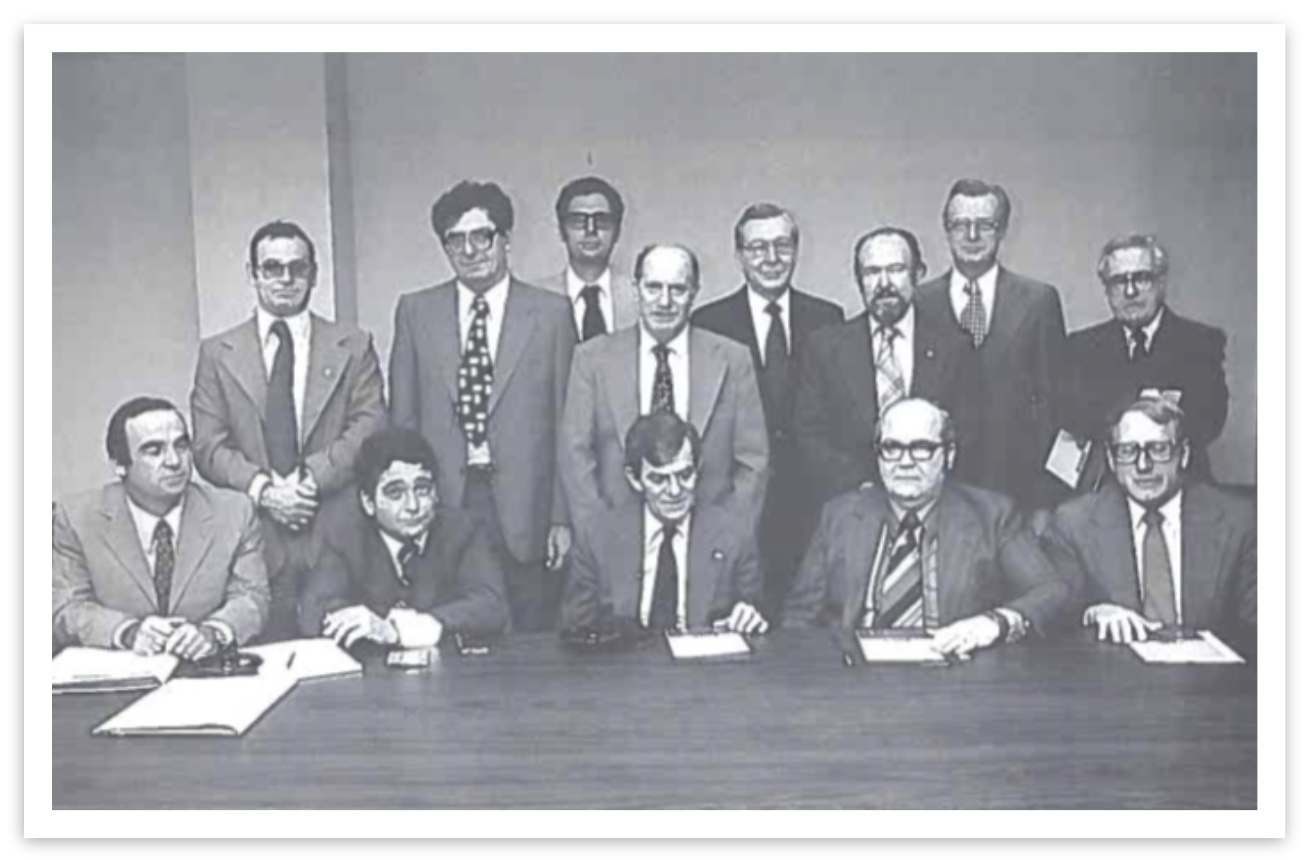 The signing ceremony for BARD; Washington DC, November 7, 1978.
Bottom, left to right: Y. Guron, Y. Vaadia, H. Bar-On, G.E. Schuh, D.G. Unger.
Top, left to right: E. Raff, P. Zusman, D. Boaz, J. Avni, R.E. Neetz, T.W. Edminster, J.M. Beattie, C. Baxter.
4.1 BARD's Mission and Vision
The primary mission of BARD is to bring together US and Israeli scientists to jointly address key agricultural challenges that concern both countries. Fostering this collaboration serves as a force multiplier, and the synergy generates far greater achievements than would have been attained with scientists working separately.
BARD's vision is to fund and promote the translation of scientific excellence into agricultural practice. This is accomplished by supporting joint US-Israel applicable agricultural research & development (R&D).
The majority of BARD-funded research projects focus on increasing agricultural productivity, particularly in hot and arid climates, and emphasize plant and animal health, food quality and safety, and environmental issues. BARD also supports international workshops and offers fellowships for postdoctoral research, senior research scientists and graduate students.
There is an extensive overlap between the challenges facing US and Israeli farmers. Drought, increasingly extreme weather conditions, population growth and diminishing arable land due to urbanization and overuse are only a few of these shared concerns. Driven by necessity, Israel has made great strides in entrepreneurial innovations since its establishment, complementing the vast resources and advanced technologies available in the US. BARD serves as a catalyst, lighting a spark that fires the brilliant minds of US and Israeli scientists, and providing a workspace that synergizes collaborative agricultural research.