2023 BARD Research and Fellowship Grants
$9 M for U.S.-Israel Agricultural Research and Development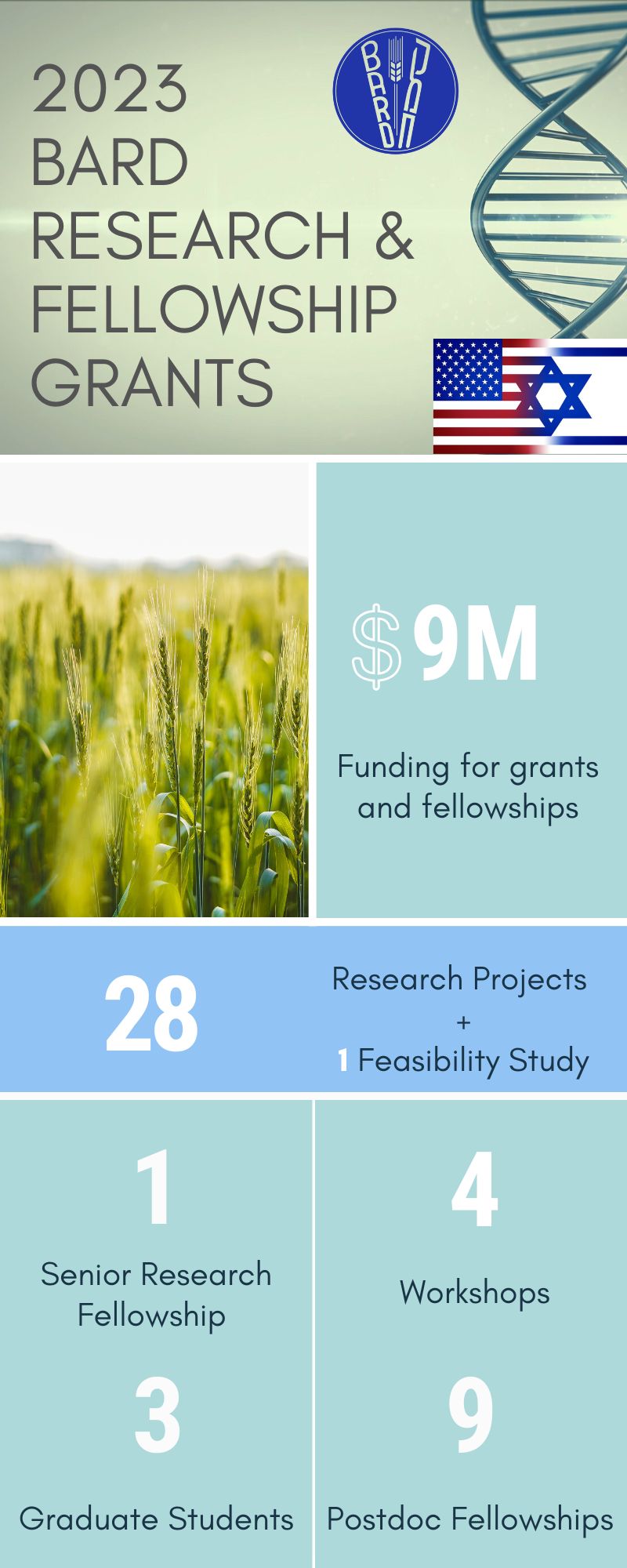 June 2023, Rishon Le'zion
BARD awarded the research and fellowship grants for the coming year with an increased budget, new funding programs and a vision to further promote research in sustainable food and nutrition sciences and applications.
During its meeting held on June 19, the BARD (U.S.-Israel Binational Agricultural Research and Development Fund) Board of Directors approved the funding of grants and fellowships of joint US- Israel agriculture research and development to the sum of $9 million. This year, BARD will be funding 28 research projects, and nine postdoctoral fellowships through the Va'adia-BARD fellowship program. In addition, the fund will be granting three graduate student fellowships, one BARD senior research fellowship (supporting an American scientist who will conduct research in Israel) and four workshops.
The funded research projects include a wide range of research fields including AI, remote sensing, precision agriculture methods, climate resilient and climate smart agricultural practices, animal production and health, plant production and health, post-harvest technology, soil fertility and water management resources. BARD-funded research projects deal with the major issues contemporary agriculture is facing such as: the need to adapt to climate change and the need for sustainable agriculture.
Prof. Yoram Kapulnik, BARD's executive director: This year our portfolio has grown by more than 35%. Our funding will help both nations' efforts to focus on more science-based solutions for many of the challenges facing agriculture. Our external and internal surveys consistently show that our funding opportunities have delivered long-term value and impact to the agriculture research community, the farmer and consumers in general both in the US and in Israel.
Joining these efforts are new initiatives in Food and Nutrition, Aquaculture and Desert Farming in partnership with UDSA-NIFA. These funding programs run in parallel to our main BARD program. The Food and Nutrition program in partnership with the Israel Innovation Authority granted 7.2 million NIS in December 2022
Dr. Michal Levy, Chief Scientist and Senior Deputy Director General, Israeli Ministry of Agriculture, who served as the board chairperson: Our joint work integrated in both BARD's plan to feature Climate-Smart Agriculture and Israeli Ministry of Agriculture's office of the Chief Scientist's focus on climate-smart aquaculture for dry climates and support desert farming. BARD gives researchers from the US and Israel the opportunity to work together on some of the most innovative research projects in agricultural research. BARD is especially important for young scientists as it provides funding for postdoctoral fellows and early career scientists. This year, 40% of the funded research projects will include an early career investigator from one or both countries.
Vaadia Postdoctoral Fellowships