CELEBRATING JOINT U.S- ISRAEL AGRICULTURAL INNOVATION
FROM ROOTS TO FRUITS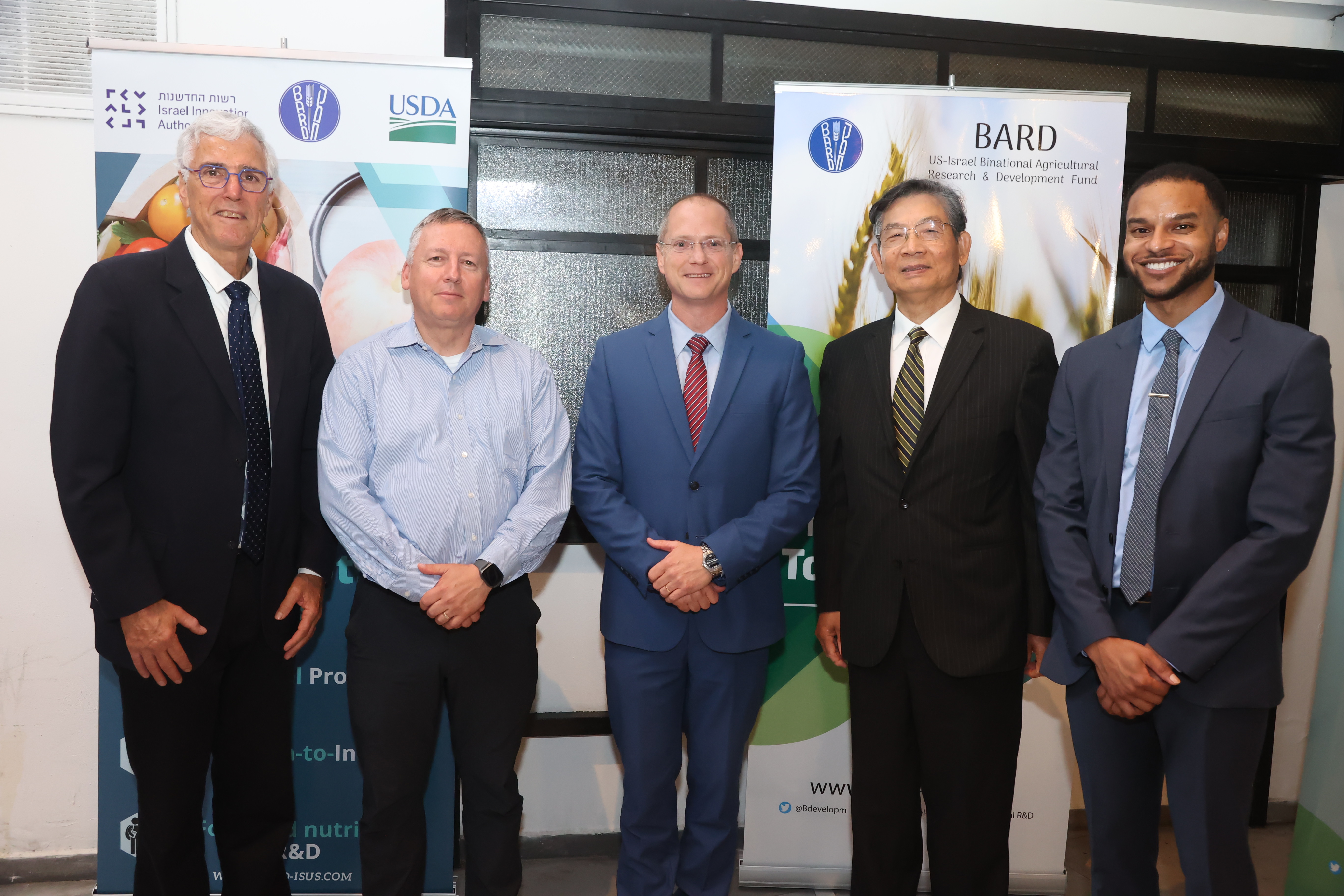 Left to Right: Prof Yoram Kapulnik, Executive Director BARD; Prof. Richard Linton, President Kansis State University; Mr. Oded Forer, Israeli Minister of Agriculture; Dr. Simon Liu, Acting Director USDA-ARS; Bryon Norrington, Director of International Programs, USDA-ARS
On May 23rd, BARD hosted a dinner reception. This dinner was attended by BARD board of directors, committee members, officials from the Israel innovation authority and the Israeli minister of Agriculture and Rural Development, Mr. Oded Forer who expressed the Ministry's strong commitment to BARD's activities. Originally this dinner was planned for two years ago to mark the funds' 40-year anniversary and the excellent results of the 40-year review. Due to the COVID-19 lockdowns and social distancing, it was postponed. The impressive evening showcased a strong, long-standing partnership.
Mr. Oded Forer, the Israeli Minister of Agriculture and Rural Development: "Israel has a long-standing partnership with the United States and successful cooperation over a wide range of topics, including security issues. As is well known, the two countries are currently facing similar climate and food-security challenges. Therefore, it is vital that we prepare for future challenges in these areas. I am interested in tightening and further supporting the collaboration and expanding it to relevant issues, especially food production from the sea and from the desert."
Prof. Yoram Kapulnik BARD's executive director: "We came here to celebrate the great friendship between the United States and Israel. BARD is the epitome of this friendship. For 40 years BARD has brought scientists from both countries to work together to meet the challenges of feeding future generations. A partnership formed by BARD lasts far beyond the lifetime of the grant, as the researchers continue their cooperation, and maintain contact for many years after the grant is completed. BARD works to serve the mutual interests of the U.S. and Israel with an eye towards future generations and the need to fund research that will guarantee secure food systems and healthy nutritional development".
Dr. Michal Levy, BARD board member, who serves as the Chief Scientist & Senior Deputy Director-General for Agriculture Innovation at the Israeli Ministry of Agriculture and Rural Development: "We will be prioritizing aquaculture, specifically, land-based aquaculture. We want to support Aquaculture systems for fish and seafood farming that can run sustainably in desert environments. The expertise and knowledge-sharing through joint projects funded by BARD grants and fellowships are the key to our success".
At this opportunity we also said farewell to our friend and colleague Prof. Abed Gera upon his retirement. He received grants as an investigator; he was a member of the BARD technical advisory committee; he helped develop and lead the MARD program, and he has served as a board member.
BARD dinner reception 2022 | Flickr